The 23rd Netherlands' Catalysis and Chemistry Conference will take place on 9-11 May 2022 at the Conference Centre Leeuwenhorst in Noordwijkerhout (The Netherlands).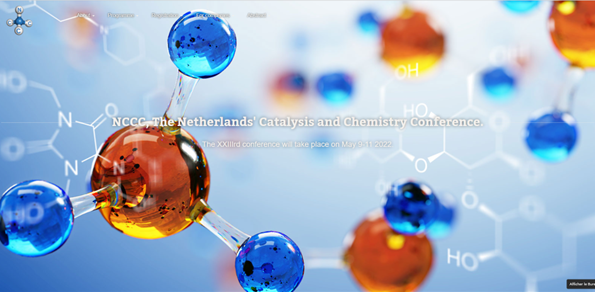 Latest C2Fuel results will be presented:
2 posters:
"Morphology study of bismuth nanoparticles as catalyst for electrochemical CO2 reduction to formate". Alex J.W. Man, Tim Wissink, Marta C. Figueiredo, Emiel J.M. Hensen
Photo and electrocatalysis Poster session II (Tuesday)
"Catalytic performance study of supported Au catalysts for the direct hydrogenation of CO2 to formic acid". Anouk de Leeuw den Bouter, Pierre Oliver, Camel Makhloufi, John van der Schaaf
Alternative feedstocks: renewables, carbon dioxide, waste streams Poster session I (Monday)
2 oral presentations:
"Transition metal doped In2O3 for CO2 reduction to formate: How to retain the oxide phase for improved stability". T. Wissink
Monday 09/05, 13:55, Rotonde
"Kinetic modelling of the methanol synthesis from CO2 and H2 over a CuO/CeO2/ZrO2 catalyst: the role of CO2 and CO hydrogenation". S. Poto, M.F. Neira d'Angelo, F. Gallucci
Tuesday 10/05 15:50, Sorbonne 2
Come and visit us!
NCCC attracts about 500 participants, including around 100 scientists from industry. The meeting offers a unique, international forum to exchange innovative ideas between academic and industrial scientists in a broad area of catalysis and chemistry research and technology.
More on NCCC: https://n3c.nl/